-Mainguard Street, Galway 212kb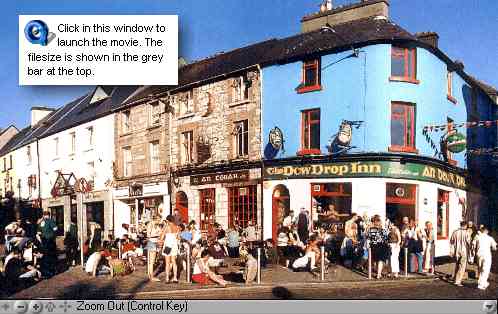 previous: St. Nicholas

next: Cross Street
---

The customers of the Dew Drop Inn celebrate the sunshine by taking a drink outdoors. The advertisement on the left is from outside the Inn, not visible in the panorama as its obscured by patrons probably drinking the selfsame Guinness®. Guinness is the national drink of Ireland, rich and creamy in texture. It's goodness is so legendary that the rumor says that its possible to live on it.

---

If for some reason the weather is not as sunny as on the day when the panorama was taken then you may wish to check out 'Winding Stairs Antiques'.



---

Angling in Ireland, with its many crystal clear lakes and rivers is a very big sport. Duffy's Sports Shop in Mainguard Street will be your kind of place. Featuring an incredible range of fishing tackle from fly-fishing to sea-angling, this is also a good place to shop to find all kinds of general camping equipment and hunting gear.