-Cross Street 802kb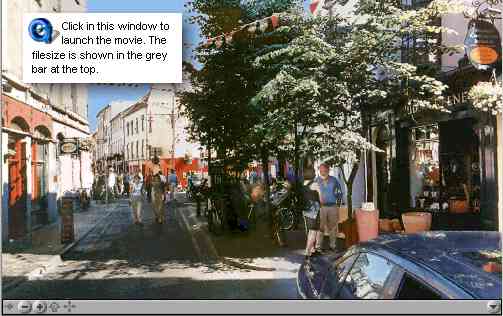 previous: Mainguard Street

next: Quay Street
---
Cross Street in Galway is a charming street with craft shops, restaurants, pubs and antiques. In this view Quay Street is straight ahead with Naughton's pub and a coffee shop in the shaded area on the right.
---

You might find yourself listening

to the music of a banjo or guitar whilst you are sitting supping quietly on a pint or two of Guinness®. Wafting down the street on this particular day came these wonderful sounds from a tin whistle, playing 'The Sailors Hornpipe'.
To listen please

click here.


---

Turning right a street leads to the 'Design Concourse Ireland', which offers fine Irish jewellery, clothing and furniture. Exhibitions are also held at regular intervals.

Tempo is an Antiques collectors haven. Many items in differing price ranges are on offer.


In a short space of time Busker Brownes Restaurant has made a name for itself for its charming atmosphere and excellent food.

Looking further ahead we see St. Patrick's school. On the corner on the right is the Dew Drop Inn which we saw on the previous page.

Walking back, past the bookmaker we come to 'The Frontdoor' where the customers like to grab a chair to spot the local talent. This is a popular pastime with the male population and if you don't know the expression - grab a pint and ask them...
Continue moving past 'The Framemaker' at No. 10 until you reach the intersection to turn right into Quaystreet.