-The Long Walk, Galway 275kb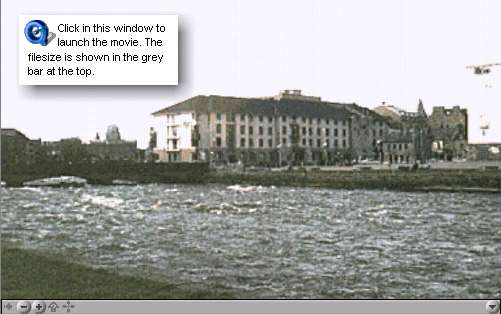 previous: Fishing Boats

next: Claddagh
---
Straight ahead is Wolfe Tone Bridge with Galway Cathedral in the background. Jury's Inn Hotel is on the right. The river in view is the Corrib, which is a wildlife habitat for salmon.

Moving further right we see the Spanish Parade. Quay Street (1) ends here.
This area used to be the old fish market, where the catches from the Claddagh fishermen were sold.
---

The Columbus sculpture (2) is situated in front of Wolfe Tone Bridge on the left. It was erected to commemorate the 500th anniversary of Christopher Columbus' discovery of America. Read the full inscription by magnifying the picture.
---
The Spanish Arch (3) dates back to AD 1610 or earlier. It is one of Galway's most historic landmarks and speaks of Galway's close trading links with Spain in the Middle Ages. The white building on the left houses the Galway City Museum.
---

Passing through the Spanish Arch we enter Long Walk. Along this street Galway's gentry used to go for strolls. These young Irish Colleens here are seen sitting in front of Nimmo's Pier restaurant, which serves excellent sea food in a pleasant surroundings.
---

Irish Bed & Breakfast accommodation is possibly the most immediate way for the casual visitor to glimpse Irish hospitality. The Irish breakfast consists of tea or coffee, toast, eggs (fried, scrambled or cooked), bacon rashers, black and white pudding, a fried tomato and sausages.
---

The stretch of Long Walk seen on the right is occasionally used for docking by boats and small ferries. The River Corrib flows into the Atlantic Ocean from here.
---

We are now in the area of the Claddagh, a traditional fishing village. Hence you'll see a great number of fishing boats of all descriptions. Here is a skipper at work repairing a Galway hooker. Thirsty work apparently, since the barrel of Guinness isn't far...
---

This picture was taken on a day when St. Peter couldn't quite decide whether he should schedule rain or sunshine. The weather on Ireland's West Coast is very unpredictable, and it's not uncommon to cycle through four seasons in a single day.
---
Next we'll visit the Claddagh village. Meet the King of the Claddagh, the Liam Mellows Pipe band, and many more...